Marvel's Phase Three: A Robert Downey Jr.-Less 'Iron Man 4′?
By Bryan Enk | Movie Talk.
Is Robert Downey Jr. the only man who will ever play Iron Man? Marvel says 'no.' (Photo: Paramount Pictures)As "Iron Man 3″ continues to rake in the cash (it's surpassed the $1 billion mark worldwide and counting), everyone's abuzz about "Iron Man 4." Such an endeavor would seem like a no-brainer for Marvel, and the studio is completely dedicated to doing it … whether Robert Downey Jr. is on board or not.
It's no secret that Downey Jr. has expressed reservations about returning for another stand-alone Tony Stark adventure, especially considering that it wouldn't happen until well after "The Avengers 2," which doesn't hit theaters until May 2015.
"I'd go start another one tomorrow, but it's not tomorrow," Downey told Entertainment Weekly, with the 48-year-old actor admitting that he's not getting any younger. "And there are a lot of other considerations. But I also don't like the idea of leaving people hanging or leaving people in the lurch."
RDJ is also anticipating a career beyond Tony Stark and Marvel, which may include a third "Sherlock Holmes" movie and even some brand-new franchises.
"My intent is to launch another franchise, independent of any that I can even imagine right now," said Downey, who's also currently attached to David Dobkin's legal thriller "The Judge" and Jon Favreau's foodie comedy "Chef." "My intent is to dominate the playing field for as long as I can, with my own challenges, with myself."
That's swell and all, though Marvel has made it clear that there will be an "Iron Man 4″ (and beyond) with or without its leading man. The series could certainly be rebooted James Bond-style, despite the fact that Downey Jr. is so singularly identified with the role.
Robert Downey Jr. and Kevin Feige in 2011 (Photo: Kevin Winter/Getty Images)"I believe there will be a fourth 'Iron Man' film and a fifth and a sixth and a 10th and a 20th," said Marvel producer Kevin Feige. "I see no reason why Tony Stark can't be as evergreen as James Bond. Or Batman for that matter. Or Spider-Man. I think Iron Man is a character just like that."
Don't think Marvel won't do it, either — they've already replaced Edward Norton with Mark Ruffalo as Bruce Banner, not to mention Terrence Howard with Don Cheadle as James 'Rhodey' Rhodes. Heck, don't think Marvel just won't replace everyone in "The Avengers 2″ if the ensemble doesn't agree with their terms.
According to Deadline, Marvel and Disney are heading into some troubled waters with "The Avengers 2″ as the upfront pay, backend compensation, break-even points and box office bonuses aren't pinned down yet for several cast members. The studio is notoriously stingy, and while they're usually successful in keeping at least the details of any tensions from the media, they still inspire some frustrated venting from actors' reps.
"Marvel has created so much animosity by strong-arming and bullying on sequels already. It's counterproductive," said one source to Deadline. Says another, "I'm sick of Kevin Feige telling me again and again how Marvel is 'reinventing the movie business.' It doesn't work like this. They're reinventing business, period."
That "reinvention" may involve just bringing in a bunch of replacements to play the superheroes we've come to know and love in "The Avengers 2." We highly doubt it will ever come to that, as public backlash would be mightier than Thor himself, but it definitely makes for an almost diabolical negotiation position … after all, we doubt any of the "Avengers" stars would want to see someone else literally stepping into their shoes (or boots, rather).
However "The Avengers 2″ works out, it will mark the end of Marvel's Phase Two (which commenced this month with "Iron Man 3″) and set the stage for Phase Three. There's currently only one confirmed film set for Phase Three (though you can probably also definitely count on "Iron Man 4″), with the rest of the candidates merely speculative … and some more realistic than others.
"Ant-Man"
The tiny but rollicking adventures of size-shifting scientist Hank Pym have been in development since even before the first "Iron Man" and will finally be hitting the big screen as the official Phase Three blast-off. Pym develops a suit that allows him to shrink to the size of a certain insect … and to communicate with them as well.
Ant-Man is one of the reasons why Marvel became its own stand-alone production entity, with Kevin Feige saying he sat in on too many pitch meetings where confused people asked if this was about a guy who was half-ant and half-man. "Do you know why we became our own studio?" he said. "Because those are the conversations we used to have with studio execs. And they were very frustrating."
"I actually made the choice to make 'Scott Pilgrim' and 'The World's End' before this one," said director Edgar Wright to EW. "And Ant-Man is such a big special-effects film, it's almost like the further it goes on, the easier it is to do, in a way. I feel more confident now, but I can't talk about it too much because I get superstitious. I just feel like I don't want to jinx it."
"Ant-Man" is currently the only definite Phase Three project and has a release date of November 6, 2015.
"Doctor Strange"
Stephen Strange was a neurosurgeon whose career comes to an abrupt end after his hands are damaged in a car accident. After tracking down a Himalayan hermit known as the Ancient One, Strange is taught the mystical arts and reinvents himself as Doctor Strange, the "mightiest magician in the cosmos."
"I would love Strange to be a part of [the Marvel universe] only because he's a great character. He's a great standalone character," Feige said. "He's got a great origin story, for the most part. And that world of pure magic, we haven't done yet. There's a whole supernatural/magic alternate dimension going on in the Marvel comics that we haven't ever touched on. So I think that's exciting."
A "Doctor Strange" script was conjured by screenwriters Thomas Donnelly and Joshua Oppenheimer a few years ago, although there's no telling whether it will be used if and when Marvel greenlights the project. For now, it's just fun to mull over wish-list casting, with both Viggo Mortensen and Liam Neeson being mentioned as potential candidates for the role — though our first choice might be Bruce Campbell.
"Black Panther"
The big-screen adventures of what many consider to be the first African American superhero continues to elude Marvel execs, who for some reason think a gun-crazy raccoon and talking tree (two characters in the Phase Two film "Guardians of the Galaxy") are an easier sell than T'Challa, the masked man who defends the fictional African nation of Wakanda from those who would try to exploit its most valuable natural resource — Vibranium, that rare and ultra-strong metal from which Captain America's shield is made.
In 2011, Marvel commissioned a "Black Panther" script from Mark Bailey, who has made such socially charged documentaries as "Ghosts of Abu Ghraib" and "Pandemic: Facing AIDS." This had many speculating that "Black Panther" would be a Phase Two movie, which ended up not being the case.
Marvel currently doesn't have a stand-alone "Black Panther" film in active development but there's a strong possibility we might be seeing him as a supporting actor in another Marvel film … or on the upcoming television series, "Agents of S.H.I.E.L.D."
"The Punisher" / "Ghost Rider" / "Daredevil" / "Blade"
All of these properties had films produced by other studios in the past decade but have since reverted back to Marvel territory. However, none of them seem to be priority for Phase Three.
"So Punisher, Ghost Rider, Blade, all those characters are back," Feige told EW. "They all have potential, but I think we need to find the right time."
Daredevil came closest to staying with its former studio, with "The Grey" director Joe Carnahan pitching a gritty new vision of the Man With No Fear, a stark contrast from the watered-down 2003 film starring Ben Affleck. However, Fox passed on the project, allowing the rights to go back to Marvel.
Blade's last big-screen adventure came from New Line in 2004 with the much-reviled "Blade: Trinity," and the "Crank" team of Neveldine & Taylor failed to inject new life into Johnny Cage with last year's not-quite-gonzo-enough "Ghost Rider" Spirit of Vengeance." Director Lexi Alexander's curious but ultimately too strange and uneven "Punisher: War Zone" (2008) also failed to impress longtime Frank Castle fans … and gain any new ones.
"The Hulk"
No one really liked "The Incredible Hulk" (2008) starring Edward Norton very much, but Mark Ruffalo's Bruce Banner — and subsequent green goliath — really clicked (or, rather, smashed) with fans in "The Avengers." So a stand-alone "Hulk" movie starring Ruffalo is a major possibility … and Feige doesn't share the 45-year-old Ruffalo's concerns that he'll age out of the role if the studio doesn't jump on it shortly after "The Avengers 2."
"If anyone could be a great 55-year-old Hulk, it's Mark so I'm not worried about that," said Feige.
Any "Hulk" movie isn't going to be an adaptation of "Planet Hulk," though, as was previously rumored. The storyline that involves the Hulk being banished to another planet is missing the key elements that Marvel wants to focus on.
"What we're excited about exploring and expanding is Mark — and Banner's not in 'Planet Hulk' at all," explained Feige. "The fun of the Hulk is his interaction with humans."
"Inhumans"
If you think the Guardians of the Galaxy are weird, wait until you get a load of the Inhumans. The Marvel team, introduced in 1965, consists of a royal family of super-beings who evolved from alien experiments on primitive humans and were dispatched to a remote world. Led by Black Bolt, whose very voice can destroy a city, members of the Inhumans face a trial when they come of age, which involves journeying into the mutating Terrigen Mists and emerging as some new advanced form.
"'Inhumans' is cool, they're really great characters," said a clearly excited Feige. "The most powerful guy is the king who doesn't say a word and if he does — look out. That's awesome. And the notion of the Terrigen Mists, this notion that you go through and don't know what you're going to be on the other side, is incredibly compelling dramatically."
And Feige thinks the weirdness of "Guardians of the Galaxy," which hits theaters on Aug. 1, 2014, would serve as a great warm-up to "Inhumans."
"In other words, all the craziness that comes with 'Inhumans,' we've done in the other movies already," Feige said. "But this would have some of the social drama that we haven't really done yet. [Fox's] 'X-Men,' obviously, has been touching on that stuff for a while."
"Runaways"
"Runaways," created by Brian K. Vaughn in 2003, centers around a group of super-powered kids who rebel against their parents upon discovering that they're actually diabolical villains. Vaughn wrote a screenplay in 2011 though production was put on hold as Drew Pearce was brought in to do a re-write, keeping the project from being a part of either Phase One or Two.
"It's a matter of where it fits," Feige said. "The way the business is working now, you either have really inexpensive, sort of surprise movies that can come out and be hits, but don't cost much. Or you have the big giant summer blockbusters that really swing for the fences. Right now, we're just swinging for the fences every time. 'Runaways' sort of falls in-between those, in a way. We just haven't found where or how to do it … right now."
"Marvel Zombies"
A big-screen adaptation of the 2005 five-issue mini-series in which Marvel superheroes turn into flesh-eating zombies will probably never happen … though with the popularity of things like "The Walking Dead," does it stand a chance of at least being … something some day?
"I know … 'Zombies' is such a funny thing because it's such a cool comic and it's such a cool idea, but the bigger profile becomes what starts to happen [with fans]," said Feige.
The main concern would be why spend so many years and dollars on building a giant Marvel movie universe only to destroy it with a zombie apocalypse tale. Another concern is that some of the most popular "Zombies" characters, such as Zombie Wolverine, are owned by other studios.
It's also easy to do something like "Marvel Zombies" for grown-ups as a comic book series, but it's not exactly a kid-friendly premise for the PG-13 world of the movies.
"Are you going to draw figures in chalk with your 3-year-old with Hulk eating someone? Or Captain America with his brains coming out of the top of his head? Probably not," said Feige.
_____________________________________________________
'24′ returning for limited run
Hit action series 24 is returning to the small screen for a limited 12-episode run.
Reports recently surfaced online suggesting Kiefer Sutherland's famous counter-terrorism agent Jack Bauer would be heading back to TV, and now executive producer David Fury has confirmed the news.
He posted a link on his Twitter.com page on Friday directing fans to a Deadline.com article about the supposed revival, and wrote, "Yep, I'm pulling double duty along w/ (with) (new pilot) TYRANT. Whoo & Hoo!"
Sutherland is said to be in talks to reprise his action-packed role for Fox network following the cancellation of his latest TV series, Touch, on Thursday.
The news will be warmly welcomed by 24 fans – plans to turn the drama into a movie have failed to come to fruition following the end of the show's eighth season in 2010, and director Antoine Fuqua recently suggested the film had been shelved.
24′s revival comes as Bollywood star Anil Kapoor, who played Middle Eastern President Omar Hassan on the show in 2010, prepares to launch an Indian version of the series, which will be set in Mumbai.
__________________________________________________________________________________________________________________
Robert Downey Jr. And 'Avengers' Cast Ready To Rumble With Marvel Over Sequel Money And Strongarming
By Nikki Finke | Deadline.com.
Robert Downey Jr is set for another huge payday from a mega-hit Marvel movie, this time Iron Man 3. I've learned he's already made $35 million from the actioner which grossed $680 million worldwide in its first 12 days. He should exceed his biggest payday to date — that $50M from The Avengers which I've learned was more like $70M-$80M now that the film is all in. But it's really Avengers 2 where he'll clean up big-time — if he wants to reprise the role. He's hinting to some media it may be time retire Tony Stark. And saying to other outlets that Marvel better show him more money for Avengers 2. "I don't know," he said on The Daily Show. "I had a long contract with them and now we're gonna renegotiate." ("You are Iron Man! You are!" cheered Jon Stewart.) I've learned that Marvel and therefore owner Disney are going to run into big trouble on that sequel because the upfront pay, backend compensation, break even points and box office bonuses aren't pinned down yet for several big stars and castmates. This is major hurdle which Walt Disney Company Chaiman/CEO Bob Iger hasn't even mentioned to Wall Street or shareholders although he's already hyping Avengers 2 like crazy for more than a year now.
First and foremost Marvel does not have Downey in place yet. "They need him, and they don't have him. He's got a lot of leverage," one insider tells me. Much less so Scarlett Johannsen (paid to pop up in Marvel movie after movie), Chris Evans (whom some sources say made his deal for Avengers 2 when he signed for Captain America 2), Chris Hemsworth (a much bigger star now than before and unsigned for Avengers 2), Mark Ruffalo (whose Hulk role already was cast 3 times and could be the most vulnerable), Jeremy Renner (probably grateful for more exposure), Samuel L. Jackson (Scarlett's doppelganger) among others who were paid pittances for their first movies, not much better for the sequels, and are counting on at least $5 million upfront and better back ends for Avengers 2. That means much better than what Marvel claimed was Avengers' break-even point: a whopping $1.1 billion in global grosses. ("If Avengers wasn't profitable until then, why would you make it?" one rep pointedly asked Marvel top execs Kevin Feige and Louis Esposito.) In a business where studio accounting is known as fatal subtraction and even worldwide blockbusters are still supposedly in the red, Marvel and its famously frugal CEO Ike Perlmutter still give new meaning to the term stingy. I've learned that one reason why The Avengers was nominated for only one Oscar – Best Visual Effects – in the 85th Academy Awards contest was because Marvel refused to pay for an awards season campaign for the picture. And even when Disney offered to foot the bill, Marvel still wouldn't budge. (Yet the Academy Of Motion Picture Arts & Sciences assembled the cast onstage to create buzz.) Here's how one exec describes any negotiation with Marvel: "I wouldn't say it's brutal. It's uncompromising, not mean or draconian. The fact is this is the reality of the world we're living in right now."
But The Avengers cast are ready to rumble with Marvel for the Avengers sequel slated for a May 2015 release. "Some received only $200,000 for Avengers and Downey got paid $50M. On what planet is that OK?" an insider tells me. CAA represents an overwhelming majority of the Marvel stars and is trying hard to keep the negotiations out of the public limelight and media headlines. But that may not be possible with some reps blaming the studio for 'scorched earth' tactics past and present. "Marvel has created so much animosity by strongarming and bullying on sequels already. It's counterproductive," one source tells me. Says another, "I'm sick of Kevin Feige telling me again and again how Marvel is 'reinventing the movie business'. It doesn't work like this. They're reinventing business, period." I've learned Marvel already has threatened to sue or recast when contracts and/or options are challenged. That prompted a few cast members to respond, "Go ahead." I hear Hemsworth especially wasn't anxious to go back into that arduous diet and training regimen and subsist primarily on egg whites for Thor: Dark World which hits theaters November 8th. I also understand that Scarlett Johanssen told castmates she's "not going to cut her quote" for Marvel's Avengers 2. The actress as butt-kicking operative Black Widow in The Avengers and Iron Man 2 is wrapping Captain America: The Winter Soldier and has a whopping 8 options total.
Already a lot of brinkmanship played out for Captain America 2 and Thor 2. Calling it the "weirdest experience", one rep still can';t believe Marvel offered "only a $500,000 raise and then would pay another $500,000 when the movie hits $500M. Are they out of their minds?" When it was pointed out to Marvel that Hemsworth already had received $5M for his starring role in Snow White And The Huntsman, the studio shot back, "I don't know why you're complaining when Marvel only has hit movies." To which the response was, "He's happier working at a place like Universal." After hard-fought bargaining, Chris Evans for Captain America 2 and Chris Hemsworth for Thor 2 wound up with deals still weighted on the back end but at least with attainable break-even numbers and small upfront guarantees and box office bonuses.
The issue going forward is how many of the Avengers stars and starlets are still bound by early agreements and longterm options which Marvel can continue to exploit individually. To counter, I've learned the Avengers cast are becoming united behind Robert Downey Jr who is seen as the "leader" – like "a big brother" in the words of one rep - for all the younger actors in the ensemble. "He's the only guy with real power in this situation. and balls of steel, too. He's already sent a message that he's not going to work for a place where they treat his colleagues like shit," one source explains. Another rep tells me, "I have four words for Marvel – 'F— you, call Robert.'" As Downey himself has said publicly about his $50M-plus payday, "I'm what's known as a strategic cost," adding that Marvel is "so pissed" he earned that much. At this point also, no one is talking Iron Man 4 yet but it's hard not to anticipate. Don Cheadle predicted there's "potential" for a 4th installment. "No one has been specific about what that might look like or what the story could even be," he said. "First we have to see how this one plays and if people have an appetite for it, and then we'll figure out if there's a way to convince Robert to come back and do another one."
Some reps tried to go straight to Iger in hopes of discussing renegotiations since Disney purchased the multimedia empire in 2009 for $4.3B - but were rebuffed. "Wait, that's Marvel. You need to talk to them. I can't have this conversation," Iger replied, thus totally distancing himself. Other reps hoped Walt Disney Studios Chairman Alan Horn would be helpful. But Horn made clear that Marvel greenlights their own movies and only "coordinates" with him. Besides, he tells reps, "Marvel is doing such a great job running itself." (In fact Horn himself only recently met Marvel CEO Ike Perlmutter and told a pal about their get-together. "It could not have gone better. We had a meal. I was very impressed with his directness. We're the same age: how could we not have a good time together?")
The sad truth is that both Iger and Horn are scared stiff of Perlmutter and want to steer clear of the inevitable nightmare negotiations. Reps predict Ike is "going to create a lot of drama and going to want to prove a point and not look like he's going to get run over". Says one out of frustration: "I'm so bent out of shape by this asshole. He now works for a public company so I don't understand how he can keep hiding behind the curtain." Easy, because the Israeli-born and reclusive Perlmutter, worth $2.4B, is Disney's third largest individual shareholder. (He had been the second biggest shareholder but that changed when Disney added Star Wars to its empire and handed George Lucas a ginormous compensation package. Disney's top shareholder remains the Steve Jobs Trust.) Disney never dared hope that The Avengers would reap $1.5 billion in worldwide box office revenue, the third highest global gross ever. Yet no castmember has ever heard from Ike. True, Kevin Feige phoned the cast that weekend opening, but it was a first. And Iger did pick up the phone to congratulate filmmaker Joss Whedon who recalled to Deadline recently: "He couldn't have been sweeter. He said 'This wasn't about the other movies — you did this'."
Acknowledging "I'm doing okay" compensation wise, Whedon reportedly has a "really rich deal" worth and astronomical $100M for several pics, consulting work, a put pilot at ABC, and many other elements," one source tells me. But even Whedon admits that "Marvel can be very cheap" and believes the reason the cast aren't "getting giant quotes" is because of "the element of the opportunity here for something that is both popular and very human, and usually you have to choose as an actor". But he does see the potential contract hardball as "an issue".
Here are the pertinent parts of that interview:
DEADLINE: Marvel is notoriously cheap and some of the Avengers cast will want more money for the sequel. How could that affect Avengers 2?
WHEDON: I'm not going to comment specifically because I'm not privy to that sort of stuff and I don't think it's my place to talk about. In general terms, yes – Marvel can be very cheap, God knows. They can also be sensible and frugal. They have a very small infrastructure and they're not heaping this money on themselves. I don't know a producer who's done more and is paid less than Kevin Feige. I think that it's an issue but it's part of a bigger issue, which is there was a time when there was a crisis in the acting community where stars were getting $20 million and character actors were disappearing as a concept. There were no middle class actors. It was suddenly bit players and Jim Carrey, and that was it. Now the studios have gotten to a point where they're like, "Do we need that star?" With what they're able to to digitally and the way they create franchises there's a little bit of a feeling of, maybe we can eliminate the actor – not totally and not totally cynically, but I've literally heard people at the agency say, not about Marvel, "This studio is eliminating the middle movie. They're not making dramas or prestige pics or anything that isn't either a franchise or a Paranormal-style found footage". I think that changes the landscape for actors because really good actors are interested in doing a franchise because they need something.
DEADLINE: So are you worried about losing talent over these kinds of disputes?
WHEDON: I feel good about Avengers because I feel everyone who took it got something to sink their teeth into. They weren't hung out to dry. It's not a soulless piece of work. It may be inept in some places but I meant every word. Marvel distinguished themselves by going after good actors, writers, and directors who were unexpected choices. One side to that is they don't have to pay them as much. Me, [Jon] Favreau, [Kenneth] Branagh, James Gunn – we don't have giant action quotes, but we're all filmmakers who want to do something with a giant action movie instead of just accomplish it. And the actors, from Downey straight on through, they only went after the people who could get it done. So how come they're not getting giant quotes on this movie? There's the element of the opportunity here for something that is both popular and very human, and usually you have to choose as an actor.
DEADLINE: A movie makes a billion dollars and an actor is looking at their contract for the next sequel…
WHEDON: And they're probably going to mention that.
DEADLINE: You don't think this could conceivably create any problems for Avengers 2?
WHEDON: I don't, because that would make me sad and I tend to be a bit Pollyanna. I tend to think these roles can alter the course of a career. Not that Mark Ruffalo needs this or is in pursuit of this. That man will always work. But it doesn't suck. We had an amazing time making the movie and that kind of recognition doesn't hurt, if it's not with Marvel or the next guy. It's useful.
___________________________________________________________________________________________________________________
Kris Kross rapper Chris Kelly dies at 34
Chris Kelly, one half of the 1990s rap duo Kris Kross, has died in an Atlanta hospital at the age of 34.
Kelly had been found "unresponsive" at his home on Wednesday, local media reported.
Kris Kross was made up of Kelly, known as "Mac Daddy", and Chris "Daddy Mac" Smith. They are most widely remembered for their 1992 hit Jump.
They had performed in February to celebrate the 20th anniversary of the So So Def label that signed them.
The duo, who famously wore their trousers backwards and extra baggy, were just 13 when they were discovered in an Atlanta mall.
A joint statement released on Wednesday by So So Def and Kelly's mother, Donna Kelly Pratte, called him "kind, generous and fun-loving".
'His legacy will live on'
"It is with deep sadness that we announce that our beloved Chris Kelly has passed away on May 1," the statement read.
"To millions of fans worldwide, he was the trend-setting, backward pants-wearing one-half of Kris Kross, who loved making music.
"But to us, he was just Chris – the kind, generous and fun-loving life of the party.
"Though he was only with us a short time, we feel blessed to have been able to share some incredible moments with him. His legacy will live on through his music."
Police were called to Kelly's home at around 16:30 local time on Wednesday, from where he was taken to the Atlanta Medical Centre. He was pronounced dead around 17:00.
There was no official confirmation of the cause of death. An autopsy is due to be held on Thursday.
"It appears it may have been a possible drug overdose," Cpl Kay Lester, a spokeswoman for the Fulton County police, told the Associated Press.
Debut track Jump was Kris Kross's first and most successful song, leading to instant fame for the teenage duo.
Written by Grammy-winning producer Jermaine Dupri, the single topped the charts in the US and reached number two in the UK in May 1992.
It remained at number one in the US for eight weeks, selling four million copies.
In an interview reprinted on the Billboard website, Dupri remembered the pair being "real fresh" when he first met them.
"People were paying attention. I said, 'If you have that captivation over people right now, if you had a record out, this might be ridiculous.'"
Kris Kross went on to release their multi-platinum debut album, Totally Krossed Out, and subsequently toured with Michael Jackson
.
But though they had some success with hits such as Warm It Up and Tonite's tha Night, they were never able to match the huge success of their first song.
Kris Kross released two more albums in the 1990s before Kelly and Smith went their separate ways.
In 2009 reports surfaced that Kelly had cancer. But the singer denied he was ill, claiming he had suffered hair loss because of alopecia.
"My health is good," he said in a TV interview at the time.
__________________________________________________________________________________________________________________
The China Clusterf–k: Is Hollywood Fed Up?
Erratic decisions, murky agendas: Frustrated studios are up against a not-so-secret agenda of the world's second-biggest box office market as they try to build their own entertainment studio system.
At a time when securing film financing is harder than ever, Hollywood desperately is searching for a pot of gold. And there it sits in China — if only the studios can figure out how to get their hands on it.
But increasingly, whether seeking a big investment in a slate of movies or a far smaller commitment to an individual film, they are meeting with frustration. "A lot of people in China talk about wanting to invest, and ultimately, for whatever reason, it doesn't seem to happen," says the head of one entertainment company. "It's unclear to me what they think they're getting going in and, when it doesn't happen, what's caused them to change their minds."
By now, many studio executives have given up on the idea that authorities will ever permit a Chinese company to invest broadly in a studio whose films might not suit the state-run China Film Group. Many have actively pursued deals including, recently, Sony Pictures and Universal. (Some are said to be under pressure from parent companies in this respect.) Financier-producer Legendary Pictures also is said to be in pursuit of Chinese money.
Among contenders, perhaps DreamWorks Animation, with its family films, has fared best. It has released more than a dozen films in China without a hitch and has announced plans to team with Chinese partners to build a production facility in Shanghai. Kung Fu Panda 3 is set to be the first animated co-production in China.
Others have learned that even a partnership with a Chinese company on a film doesn't ensure their movie will be designated an official co-production, which allows studios to get a bigger cut of the box-office gross.
In fact, even if studios expect nothing more than the chance to play a movie in Chinese theaters and believe all hurdles have been cleared, sudden obstacles can arise. Such was Sony's experience with Quentin Tarantino's Django Unchained, pulled from theaters in China on April 11 literally moments after it began to play.
Still, the lure of China is strong. The country has become the world's No. 2 movie market (behind the U.S.), on track to become No. 1 by 2020. (China generated box office of $2.7 billion in 2012, up more than 30 percent from the previous year, and the country is still adding screens fast.) Although China typically returns only 20 to 25 percent of box-office grosses to U.S. studios on films allowed in — less than other foreign markets — a smaller cut of a bigger pot is well worth pursuing, especially in these hungry times.
But some say the climate in China seems to be getting worse, despite the easing of its quota system to allow into the market 34 foreign films a year instead of 20. There have been frequent censorship issues to contend with, as well as the Chinese desire to tilt the board in favor of homegrown product. In August, when The Amazing Spider-Man was forced to open opposite The Dark Knight Rises, MPAA head Christopher Dodd called the Chinese embassy in Washington to ask why.
There's growing awareness that the Chinese agenda in dealing with American studios is largely about creating China's own version of Hollywood. "I think they have a real ambition to build up a film industry, a real studio business," says Sony Entertainment CEO Michael Lynton. "They hope to learn a lot about how movies are made and marketed." Such thinking is said to have been behind Dalian Wanda Group's $2.6 billion acquisition of U.S. theater circuit AMC Entertainment in 2012.
A top U.S. executive says he believes China's primary intent is not to make money but "to create an industry equal to Hollywood, but in a way that reflects Chinese culture and sensibility and history." And the goal is for those films to play globally, as American movies do.
Given all this, plus a shifting political landscape that is opaque to most Westerners, one Hollywood exec sums up the situation bluntly: "China is way too big to ignore and way too f–ed up to expect anything."
For studios, the immediate question is: What do the Chinese really want? When it comes to co-productions, U.S. studios have learned that injecting a few Chinese elements into a film does not suffice. DMG Entertainment, the Chinese company that partnered with Disney's Marvel on Iron Man 3, had touted the movie as a co-production, but questions arose as to whether the film would meet China's ill-defined criteria. (One problem: Ben Kingsley plays a villain called The Mandarin.) Marvel ultimately decided not to seek co-production status; instead it will release a tailored version of the film in China.
Even if a studio is not dreaming of getting co-production status but simply wants the best chance for a release in China, there may be unforeseen issues, as Sony found with Django. No reasons were given for pulling the film, but several American executives are surprised that its extreme violence and nudity had made it past Chinese censors in the first place. (Several doubt the film will ever be released in China.)
Last year, Tarantino lent his name as a "presenter" on the martial arts film The Man with the Iron Fists starring Russell Crowe and Lucy Liu. Chinese authorities reviewed the script for the $15 million movie and allowed the entire picture to be filmed in China. The only issue raised was an oblique objection to a Chinese actor who apparently was out of favor. (The actor was not cast.)
But producer Marc Abraham says Chinese authorities ultimately declined to allow the film to play there for reasons that were never explained. "Filming in China was a great experience but it was beyond my skill set to understand or fathom the inner workings of the Chinese government," Abraham says.
In light of the challenges, some studios have adjusted their thinking. Paramount will partner with two Chinese entities on Transformers 4 and cast four roles with Chinese actors selected through a reality television show whose panel of judges includes producer Lorenzo di Bonaventura, casting director Denise Chamian, Paramount executive Megan Colligan and former Academy head Sid Ganis.
Nonetheless, Paramount is not counting on Transformers 4 to be a co-production, says studio vice chairman Rob Moore. Doing that would be a mistake. "We're taking a different approach," he says. "We are only counting on the fact that we have identified partners that we believe will help us make the best, most playable movie for China. If we have a more playable movie in China, we're going to be happy with that."
Email: Kim.Masters@thr.com
Twitter: @KimMasters
__________________________________________________________________________________________________________________
Disney child star Annette Funicello dies at age 70
Reuters
LOS ANGELES (Reuters) – Annette Funicello, America's girl next door who captured the innocence of the 1950s and 1960s as a Disney Mouseketeer and the star of beach party movies, died on Monday at age 70, the Walt Disney Co. said.
Funicello died at Mercy Southwest Hospital in Bakersfield, California, from complication of multiple sclerosis, the television and film studio said.
Her family told celebrity news television program "Extra" that Funicello had been in a coma.
"Annette was and always will be a cherished member of the Disney family, synonymous with the word Mousketeer, and a true Disney legend," Bob Iger, chairman and CEO of Walt Disney Co., said in a statement.
"She will forever hold a place in our hearts as one of Walt Disney's brightest stars, delighting an entire generation of baby boomers with her jubilant personality and endless talent," he said.
Funicello first caught the public eye as a teenager in the 1950s when she was one of the original members of Disney's "The Mickey Mouse Club." She went on to star in a series of beach movies in the 1960s including "Beach Party," "Bikini Beach" and the hit "Beach Blanket Bingo," released in 1965 and co-starring teen idol Frankie Avalon.
In later life, she was remembered for her valiant fight against multiple sclerosis, a crippling disease of the nervous system that she developed in the late 1980s.
It led the once-vivacious singer and actress to depend first on a cane, then a walker and finally a wheelchair.
Funicello was born in Utica, New York, and the family moved to California when she was a child. Her father, Joe, was a mechanic and her mother, Virginia, devoted herself to her daughter's show-business career once she became a Mouseketeer.
Funicello married Hollywood agent Jack Gilardi in 1965 and the couple had three children, Jack, Jason and Gina. The couple divorced in 1981, and she married racehorse breeder Glen Holt in 1986.
__________________________________________________________________________________________________________________
Sun-Times: Famed movie critic Roger Ebert, known for thumbs-up or thumbs-down reviews, dies
By Caryn Rousseau, The Associated Press | The Canadian Press .
CHICAGO – Roger Ebert, the most famous and most popular film reviewer of his time who become the first journalist to win a Pulitzer Prize for movie criticism and, on his long-running TV program, wielded the nation's most influential thumb, died Thursday, the Chicago Sun-Times reported. He was 70.
Ebert had been a film critic for the Chicago Sun-Times since 1967. He had announced on his blog Wednesday that he was undergoing radiation treatment after a recurrence of cancer.
He had no grand theories or special agendas, but millions recognized the chatty, heavy-set man with wavy hair and horn-rimmed glasses. Above all, they followed the thumb — pointing up or down. It was the main logo of the televised shows Ebert co-hosted, first with the late Gene Siskel of the rival Chicago Tribune and — after Siskel's death in 1999 — with his Sun-Times colleague, Richard Roeper. Although criticized as gimmicky and simplistic, a "two thumbs up" accolade was sure to find its way into the advertising for the movie in question.
Despite his power with the movie-going public, Ebert wrote in his 2011 autobiography "Life Itself," that he considered himself "beneath everything else a fan."
"I have seen untold numbers of movies and forgotten most of them, I hope, but I remember those worth remembering, and they are all on the same shelf in my mind," Ebert wrote in his 2011 memoir, "Life Itself."
He was teased for years about his weight, but the jokes stopped abruptly when Ebert lost portions of his jaw and the ability to speak, eat and drink after cancer surgeries in 2006. But he overcame his health problems to resume writing full-time and eventually even returned to television. In addition to his work for the Sun-Times, Ebert became a prolific user of social media, connecting with fans on Facebook and Twitter.
The thumb logo remained the property of Ebert and Siskel's widow, and in early 2011, Ebert launched his new show, "Ebert Presents At the Movies." The show had new hosts, but featured Ebert in his own segment, "Roger's Office." He used a chin prosthesis and enlisted voice-over guests to read his reviews.
While some called Ebert a brave inspiration, he told The Associated Press in an email in January 2011 that bravery and courage "have little to do with it."
"You play the cards you're dealt," Ebert wrote. "What's your choice? I have no pain, I enjoy life, and why should I complain?"
Ebert joined the Sun-Times part time in 1966 while pursuing graduate study at the University of Chicago, and got the reviewing job the following year. His reviews were eventually syndicated to several hundred other newspapers, collected in books and repeated on innumerable websites, which would have made him one of the most influential film critics in the nation even without his television fame.
His 1975 Pulitzer for distinguished criticism was the first, and one of only three, given to a film reviewer since the category was created in 1970. In 2005, he received another honour when he became the first critic to have a star on the Hollywood Walk of Fame.
Ebert's breezy and quotable style, as well as his knowledge of film technique and the business side of the industry, made him an almost instant success.
He soon began doing interviews and profiles of notable actors and directors in addition to his film reviews — celebrating such legends as Alfred Hitchcock, John Wayne and Robert Mitchum and offering words of encouragement for then-newcomer Martin Scorsese.
In 1969, he took a leave of absence from the Sun-Times to write the screenplay for "Beyond the Valley of the Dolls." The movie got an "X" rating and became somewhat of a cult film.
Ebert's television career began the year he won the Pulitzer, first on WTTW-TV, the Chicago PBS station, then nationwide on PBS and later on several commercial syndication services. Ebert and Siskel even trademarked the "two thumbs up" phrase.
And while the pair may have sparred on air, they were close off camera. Siskel's daughters were flower girls when Ebert married his wife, Chaz, in 1992.
"He's in my mind almost every day," Ebert wrote in his autobiography. "He became less like a friend than like a brother."
Ebert was also an author, writing more than 20 books that included two volumes of essays on classic movies and the popular "I Hated, Hated, Hated This Movie," a collection of some of his most scathing reviews.
The son of a union electrician who worked at the University of Illinois' Urbana-Champaign campus, Roger Joseph Ebert was born in Urbana on June 18, 1942. The love of journalism, as well as of movies, came early. Ebert covered high school sports for a local paper at age 15 while also writing and editing his own science fiction fan magazine.
He attended the university and was editor of the student newspaper. After his graduation in 1964, he spent a year on scholarship at the University of Cape Town in South Africa and then began work toward a doctorate in English at the University of Chicago.
Ebert's hometown embraced the film critic, hosting the annual Ebertfest film festival and placing a plaque at his childhood home.
Ebert also was embraced online in the years after he lost his physical voice. He kept up a Facebook page, a Twitter account with nearly 600,000 followers and a blog, Roger Ebert's Journal.
The Internet was where he forged relationships with his readers, posting links to stories he found interesting and writing long pieces on varied topics, not just film criticism. He interacted with readers in the comments sections and liked to post old black-and-white photos of Hollywood stars and ask readers to guess who they were.
"My blog became my voice, my outlet, my 'social media' in a way I couldn't have dreamed of," Ebert wrote in his memoir. "Most people choose to write a blog. I needed to."
Ebert wrote in 2010 that he did not fear death because he didn't believe there was anything "on the other side of death to fear."
"I was perfectly content before I was born, and I think of death as the same state," he wrote. "I am grateful for the gifts of intelligence, love, wonder and laughter. You can't say it wasn't interesting."
__________________________________________________________________________________________________________________
Sophia Stewart, The Real Creator of 'The Matrix,' Wins Billion Dollar Copyright Case
Sophia Stewart, science fiction writer
AFRICANGLOBE – This little known story has met a just conclusion, as Sophia Stewart, African American author of The Matrix will finally receive her just due from the copyright infringement of her original work!!!
A six-year dispute has ended involving Sophia Stewart, the Wachowski Brothers, Joel Silver and Warner Brothers. Stewart's allegations, involving copyright infringement and racketeering, were received and acknowledged by the Central District of California, Judge Margaret Morrow presiding.
Stewart, a New Yorker who has resided in Salt Lake City for the past five years, will recover damages from the films, The Matrix I, II and III, as well as The Terminator and its sequels. She will soon receive one of the biggest payoffs in the history of Hollywood , as the gross receipts of both films and their sequels total over 2.5 billion dollars.
Stewart filed her case in 1999, after viewing the Matrix, which she felt had been based on her manuscript, 'The Third Eye,' copyrighted in 1981. In the mid-eighties Stewart had submitted her manuscript to an ad placed by the Wachowski Brothers, requesting new sci-fi works..
According to court documentation, an FBI investigation discovered that more than thirty minutes had been edited from the original film, in an attempt to avoid penalties for copyright infringement.
The investigation also stated that 'credible witnesses employed at Warner Brothers came forward, claiming that the executives and lawyers had full knowledge that the work in question did not belong to the Wachowski Brothers.' These witnesses claimed to have seen Stewart's original work and that it had been 'often used during preparation of the motion pictures.' The defendants tried, on several occasions, to have Stewart's case dismissed, without success.
Stewart has confronted skepticism on all sides, much of which comes from Matrix fans, who are strangely loyal to the Wachowski Brothers. One on-line forum, entitled Matrix Explained has an entire section devoted to Stewart. Some who have researched her history and writings are open to her story.
Others are suspicious and mocking. 'It doesn't bother me,' said Stewart in a phone interview last week, 'I always knew what was true.'
Some fans, are unaware of the case or they question its legitimacy, due to the fact that it has received little to no media coverage. Though the case was not made public until October of 2003, Stewart has her own explanation, as quoted at aghettotymz.com:
'The reason you have not seen any of this in the media is because Warner Brothers parent company is AOL-Time Warner…. this GIANT owns 95 percent of the media… let me give you a clue as to what they own in the media business… New York Times papers/magazines, LA Times papers/magazines, People Magazine, CNN news, Extra, Celebrity Justice, Entertainment Tonight, HBO, New Line Cinema, DreamWorks, Newsweek, Village Roadshow and many, many more! They are not going to report on themselves. They have been suppressing my case for years.'
The Matrix is arguably the most successful science sci-fi movie
Fans who have taken Stewart's allegations seriously, have found eerie mythological parallels, which seem significant in a case that revolves around the highly metaphorical and symbolic Matrix series. Sophia, the Greek goddess of wisdom has been referenced many times in speculation about Stewart. In one book about the Goddess Sophia, it reads, 'The black goddess is the mistress of web creation spun in her divine matrix.'
Although there have been outside implications as to racial injustice (Stewart is African American), she does not feel that this is the case. 'This is all about the Benjamins,' said Stewart. 'It's not about money with me. It's about justice.'
Stewart's future plans involve a record label, entitled Popsilk Records, and a motion picture production company, All Eyez On Me, in reference to God. 'I wrote The Third Eye to wake people up, to remind them why God put them here. There's more to life than money,' said Stewart. 'My whole to the world is about God and good and about choice, about spirituality over 'technocracy'.'
If Stewart represents spirituality, then she truly has prevailed over the 'technocracy' represented in both the Terminator and the Matrix, and now, ironically, by their supposed creators.
Stewart is currently having discussions with CBS about a possible exclusive story and has several media engagements in the near future to nationally publicize her victory.
June 13th 2004. Sophia Stewart's press release read: 'The Matrix & Terminator movie franchises have made world history and have ultimately changed the way people view movies and how Hollywood does business, yet the real truth about the creator and creation of these films continue to elude the masses because the hidden secret of the matter is that these films were created and written by a Black woman…a Black woman named Sophia Stewart. But Hollywood does not want you to know this fact simply because it would change history. Also it would encourage our Black children to realize a dream and that is…nothing is impossible for them to achieve!
__________________________________________________________________________________________________________________
Posted on Tuesday, March 19th, 2013 by Angie Han
If you're a production company attempting to Dark Knight-ize a literary classic, there are worse people to bring on than a guy who's had a hand in all four of Christopher Nolan's DC films to date. Batman Begins co-writer David Goyer has just signed on to direct the The Count of Monte Cristo, based on the book by Alexandre Dumas.  It's been about a decade since the story last made it to Hollywood, then with director Kevin Reynolds and stars Jim Caviezel and Guy Pearce (pictured above). Read on after the jump.
Though The Count of Monte Cristo won't be Goyer's first time in the director's chair, he's really better known for his writing. He wrote Man of Steel and co-wrote Batman Begins, and received story credits on both The Dark Knight and The Dark Knight Rises. He also penned all three of the Blade movies (the last of which, Blade: Trinity, he also directed), and worked on Ghost Rider: Spirit of Vengeance.
However, Goyer will only direct on The Count of Monte Cristo. He'll be working from a script by Michael Robert Johnson, whose experience includes Guy Ritchie's Sherlock Holmes and Paul W.S. Anderson's upcoming Pompeii. The combination of Goyer and Johnson makes perfect sense considering the approach Constantin Films plans to take. The new project is being touted as a "19th century Dark Knight" which will do for the original novel what Ritchie's Sherlock Holmes did for Arthur Conan Doyle's books. Constantin was previously behind Anderson's The Three Musketeers, another updated Dumas adaptation.
Goyer compared the new movie to some of his past work while speaking with THR. "During my career I've enjoyed re-invigorating and contextualizing classic characters that are relatable to contemporary audiences," he said. "Michael has written an excellent script, and I'm going to enjoy bringing our take of the rich and textured world of Monte Cristo to the big screen."
Set in 19th century Europe, The Count of Monte Cristo follows Edmond Dantès, who's falsely imprisoned by his rivals. During his time in jail, he meets a fellow prisoner and priest who instructs him in culture and points him to a hidden fortune. Dantès stages a daring escape, refashions himself the wealthy Count of Monte Cristo, and returns to Parisian society to take his revenge. The novel is one of Dumas' most famous works, and has been reworked for film and television many times. Reynolds' 2002 drama was the most recent big-screen version, but the current ABC series Revenge also takes its inspiration from the story.
Aside from Monte Cristo, Goyer's next big project is his new Starz series Da Vinci's Demons. That show debuts next month, and centers on a young Leonardo Da Vinci.
__________________________________________________________________________________________________________________
Posted on Monday, March 18th, 2013 by Russ Fischer
Briefly: Hugh Jackman is coming off a wave of good press for Les Miserables, has The Wolverine releasing this year, and is shooting Prisoners now before going on to work with Bryan Singer for X-Men: Days of Future Past.
And now he's got another starring project lined up, as Paramount has picked up the rights to bestselling author Harlan Coben's novel Six Years. The book is not yet published, but Paramount just grabbed the rights, and former Fox head Tom Rothman may produce with Mark Gordon.
Jackman would play Jake Fisher, "who watched the love of his life, Natalie, marry another man. Six years have passed when Jake comes across the other man's obituary. He resolves to attend the funeral, hoping to catch a glimpse of Natalie. But the mourning widow is not Natalie, throwing all of his past memories with the woman into question."
No writer or director is set for the project at this point. The book hits shelves on March 19. [THR]
__________________________________________________________________________________________________________________
Posted on Monday, March 18th, 2013 by Angie Han
Warner Bros. is not giving up The Man From U.N.C.L.E. The spy thriller has been kicking around for several years at the studio, going through Matthew Vaughn, David Dobkin, and Steven Soderbergh before finally landing with Guy Ritchie in 2011. The project's been pretty quiet sinc then, but now it may be about to take a big step forward.
According to a new report, Tom Cruise is in early talks to take the lead role of Napoleon Solo, the Cold War spy originally portrayed by Robert Vaughn in the '60s TV series. Hit the jump for more details.
During the year or so that Soderbergh was set to helm, he struggled to get a leading man to stick. George Clooney was the initial first choice, but when physical difficulties kept him away Soderbergh went through a wide array of potential replacements including Michael Fassbender, Joel Kinnaman, Johnny Depp, and Channing Tatum. None of them stuck. When Ritchie took over in December 2011, there were still no stars attached.
It's too soon to say whether Ritchie will have better luck with casting than his predecessor did, but it looks like he's aiming high. The other major role, that of Solo's Russian partner Illya Kuryakin, remains to be filled. The original '60s series saw the pair frequently battling the evil organization T.H.R.U.S.H.
Warner Bros.' cinematic adaptation has gone through a number of different incarnations over the years, including Dobkin's more comedic take and Soderbergh's more classic '60s-set version. Scott Z. Burns wrote the last draft of the script under Soderbergh, which the director said would "take U.N.C.L.E. back to its roots," but it's unclear how much has changed since then.
The Man From U.N.C.L.E. has the potential to give Cruise another major studio franchise, in addition to the Mission: Impossible series and the Jack Reacher movies. Cruise's other upcoming roles include Joseph Kosinski's Oblivion, due out next month, and Doug Liman's All You Need is Kill, scheduled for next year.
___________________________________________________________________________________________________________________
Posted on Thursday, March 7th, 2013 by Germain Lussier
By the end of this year, many of your favorite movies won't exist in physical form.
Movies, of course, started as reels of film and remained like that for the better part of a century. About six years ago, digital distribution began and those movies were distributed as discs or on hard drives. Now, the three biggest theater chains in the country – Regal, AMC and Cinemark  - have all but assured satellite distribution will begin to take hold.
The theaters have partnered with a company called the Digital Cinema Distribution Coalition to begin to being to receive films, promotional materials and more via satellite. The DCDC is currently comprised of five major studios, Lionsgate, Disney, Paramount, Warners and Universal, with Sony and Fox currently negotiating. 
Variety broke the news on this major milestone, which they believe will start implementation later this year. Movies, trailers, pre-show content and even live events will be beamed into theaters all but eliminating any need for physical media.
Randolph Blotky, the chairman and CEO of Technology Convergence Partners, said this in a statement:
DCDC's service platform is the state of the art for digital delivery of various kinds of content to theaters in North America. Its business model will assure long-term consistent low-cost pricing to content providers and exhibitors across the industry.
He points out two of the major pluses here: Consistency of presentation and even lower costs. Here's another quote from the CEO of Cinemark:
DCDC is creating a technological superhighway. It's one port access to thousands of screens, for both movies and alternative content, from all content providers.
For the most part, satellites are a reliable way to distribute information but, if there is no physical media at all, what if there's some kind of blockage or malfunction? Will the studios even make physical copies of the movies at all or will it be totally digital? What about preservation? So many questions.
It'll be enlightening to learn more about this process in the coming months as, it's most certainly the future of how we view movies in the theater.
__________________________________________________________________________________________________________________
Posted on Friday, February 22nd, 2013 by Germain Lussier
Bryan Singer's first two X-Men movies are generally very well-regarded. They were so well-regarded, in fact, that Singer was given the keys to the biggest superhero of them all: Superman, leaving the door open for Brett Ratner to direct the third film, X-Men: The Last Stand. The results were disappointing. The Last Stand looked like an X-Men film, but the script was all over the place, killing major characters and all but destroying the franchise. Thankfully, Matthew Vaughn swooped in to fixed much of the damage with the reboot X-Men: First Class.
The 2014 sequel to that film, X-Men: Days of Future Past, brings Singer back into the director's chair with the very unique opportunity to doing a sequel to a reboot of your own franchise that's also going to tie into the original franchise. Say that five times fast.
In a new interview, Singer admits that The Last Stand had some problems and X-Men: Days of Future Past will fix some of them in a way that's satisfying for fans. He also talks about the balance between the original and First Class characters, the potential to start a X-Men Cinematic Universe, Jean Grey and Cyclops returning and much more. 
The interview in question is over on IGN. Head there to read the whole thing but here are a few highlights, starting with the exchange regarding franchise repair.
IGN: One thing that's interesting about the alternate universe/timeline in Days of Future Past is that it could potentially give you the opportunity to revisit things that happened in the third film in terms of characters and endings that you might like to see changed.
Bryan Singer: You mean, what you're politely saying is, "fix s**t." Is that what you're saying? That's what I'm hearing. [Laughing]
IGN: [Laughing] Maybe…
There's going to be a little of that, a few things I can repair.

 
IGN: Are fans going to be pleased with these things you will be repairing?
I think so, I think so, yes.
Singer talks about the first time he saw The Last Stand, how awkward it was, and why he decided to leave the franchise for Superman Returns. No surprise, it was a contract negotiation issue. He's then told fans would love to see Jean Grey and Cyclops returning:
Who wouldn't? Who wouldn't? [Laughing] That's all I can say.
Singer next explains that the balance between the First Class characters and original characters will be based upon a method of "time displacement" that's "steeped more in the X-Men [mythos]." But balancing the different looks and feels of the timelines would be a challenge:
The majority of it…or that part of it, takes place in the early 70's, 1973. So Nixon is a character, and there will be different styles and automobiles. And there will be some futuristic, as well as retro, technology which you haven't seen. There are science fiction aspects of the movie, and then there's some retro science fiction that the X-Men films haven't had quite yet. So we're exploring that, which will be fun. And there's an attitude [difference]. We discover our characters, particularly the younger characters, at a different place in their lives. Every character you discover in this movie is in a completely different place than you've ever seen, emotionally, and it's about them moving through that. Hilarity ensues!
Finally, Singer admits that with Days of Future Past setting up multiple different timelines, the possibilites for X-Men movies are as large as the Marvel Cinematic Universe, and points to The Wolverine as the first example. So, have he and the producers began to thought about what could happen after those films in a larger, connected Marvel sense?
It's just something we're thinking about. Really my big focus was this movie. Because it's really massive, and we're going to start shooting soon. But we're talking, [producer] Lauren Shuler Donner and I, and we'll see.
There's much, much more in the IGN interview which I urge you to go check out. Singer is very open and, obviously, very excited about this ambitious film.
___________________________________________________________________________________________________________________
Posted on Friday, February 22nd, 2013 by Russ Fischer
Captain America: The First Avenger stood out from most of the comic book movie pack because it offered something a bit different. In addition to being yet another superhero origin story, it was a WWII movie that heartily embraced the '40s setting, rather than simply using it as window dressing.
The sequel, subtitled The Winter Soldier, will go into production soon with Chris Evans reprising his role as Cap, and Anthony and Joe Russo stepping in to direct. The film takes its title, and presumably much of its storyline, from the Ed Brubaker-penned storyline of the same name, in which Cap's WWII sidekick Bucky (Sebastian Stan), thought dead, is revived as a Soviet assassin.
If that makes the Cap sequel sound like something that could be a Bourne sequel you might not be too far off, especially given the way Marvel Studios president Kevin Feige is describing the movie.
Speaking to Variety, Feige talked about his view of the lasting potential of superhero movies:
If it is a fad, it's one that lasts 30 to 40 years, as the Western did, because each one is so different. There's an opportunity to graft almost sub-genres onto them. Our first Captain America film was a World War II picture, and the next is a political thriller. They all have their own textures and patinas, and that's what is exciting about it.
The key point there for us is obviously the "political thriller" tag applied to the Captain America sequel. Which isn't any sort of big surprise, given that the film's title points squarely at the Brubaker source material, which also features many political thriller elements. (Albeit filtered through the Marvel style.)
This is notable as part of Marvel's efforts to diversify its movies — as Feige says, to graft sub-genres to the new sequels. Captain America was the war movie; Thor was the fantasy movie; Cap 2 will be the political thriller and Guardians of the Galaxy will be the sci-fi epic tinged with comedy. Whether the new films work as explorations of their sub-genres as well as Captain America did is yet to be proven.
The film also features Sebastian Stan, Anthony Mackie,Frank Grillo, Toby Jones, Scarlett Johansson, Nick Fury, Cobie Smulders, a reported cameo from Hayley Atwell, and Emily VanCamp as the new female lead. It is scheduled to land in theaters April 4, 2014.
__________________________________________________________________________________________________________________
Posted on Sunday, February 24th, 2013 by Russ Fischer
Here are the winners of the 85th Oscars. It was a rather strange year, with only the sixth tie in the history of the awards (for Sound Editing) an excess of references to Chicago, and a surprise win in the Best Director category for Ang Lee. (And those who expected Jessica Chastain to take the Best Actress award were surprised by Jennifer Lawrence winning the award, for Silver Linings Playbook.) Lee's Life of Pi actually ended up being the night's big winner, with four Oscars.
As expected, Ben Affleck's Argo took Best Picture, with producer Grant Heslov taking the opportunity to really highlight Affleck (also a producer) and give the director time to have the mic. And though the event was hosted by a comedian, Best Actor winner Daniel Day Lewis made the best jokes of the night — surprise, surprise, the guy was better than everyone else in the room.
BEST PICTURE
Beasts of the Southern Wild
Silver Linings Playbook
Zero Dark Thirty
Lincoln
Les Misérables
Life of Pi
Amour
Django Unchained
Argo
BEST DIRECTOR
David O. Russell, Silver Linings Playbook
Ang Lee, Life of Pi
Steven Spielberg, Lincoln
Michael Haneke, Amour
Benh Zeitlin, Beasts of the Southern Wild
BEST ACTRESS
Naomi Watts, The Impossible
Jessica Chastain, Zero Dark Thirty
Jennifer Lawrence, Silver Linings Playbook
Emmanuelle Riva, Amour
Quvenzhané Wallis, Beasts of the Southern Wild
BEST ACTOR
Daniel Day-Lewis, Lincoln
Denzel Washington, Flight
Hugh Jackman, Les Misérables
Bradley Cooper, Silver Linings Playbook
Joaquin Phoenix, The Master
BEST ANIMATED FEATURE
Frankenweenie
Pirates: Band of Misfits
Wreck-It-Ralph
Paranorman
Brave
BEST FOREIGN FILM
Amour (Austria)
No (Chile)
War Witch (Canada)
A Royal Affair (Denmark)
Kon Tiki (Norway)
BEST SUPPORTING ACTRESS
Sally Field, Lincoln
Anne Hathaway, Les Misérables
Jacki Weaver, Silver Linings Playbook
Helen Hunt, The Sessions
Amy Adams, The Master
BEST SUPPORTING ACTOR
Christoph Waltz, Django Unchained
Phillip Seymour Hoffman, The Master
Robert de Niro, Silver Linings Playbook
Alan Arkin, Argo
Tommy Lee Jones, Lincoln
BEST ADAPTED SCREENPLAY
Argo, written by Chris Terrio
Beasts of the Southern Wild, screenplay by Lucy Alibar & Benh Zeitlin
Life of Pi, written by David Magee
Lincoln, written by Tony Kushner
Silver Linings Playbook, written by David O. Russell
BEST ORIGINAL SCREENPLAY
Amour, written by Michael Haneke
Django Unchained, written by Quentin Tarantino
Flight, written by John Gatins
Moonrise Kingdom, written by Wes Anderson & Roman Coppola
Zero Dark Thirty, written by Mark Boal
BEST ORIGINAL SONG
"Before My Time," Chasing Ice
"Pi's Lullaby," Life of Pi
"Suddenly," Les Misérables
"Everybody Needs a Best Friend," Ted
"Skyfall," Skyfall
BEST CINEMATOGRAPHY
Seamus McGarvey, Anna Karenina
Robert Richardson, Django Unchained
Claudio Miranda, Life of Pi
Janusz Kaminski, Lincoln
Roger Deakins, Skyfall
BEST COSTUME DESIGN
Jacqueline Durran, Anna Karenina
Paco Delgado, Les Misérables
Joanna Johnston, Lincoln
Eiko Ishioka, Mirror Mirror
Colleen Atwood, Snow White and the Huntsman
BEST DOCUMENTARY FEATURE
5 Broken Cameras
The Gatekeepers
How to Survive a Plague
The Invisible War
Searching for Sugar Man
BEST DOCUMENTARY SHORT
Inocente, Sean Fine and Andrea Nix Fine
Kings Point, Sari Gilman and Jedd Wider
Mondays at Racine, Cynthia Wade and Robin Honan
Open Heart, Kief Davidson and Cori Shepherd Stern
Redemption, Jon Alpert and Matthew O'Neill
BEST FILM EDITING
William Goldenberg, Argo
Tim Squyres, Life of Pi
Michael Kahn, Lincoln
Jay Cassidy and Crispin Struthers, Silver Linings Playbook
Dylan Tichenor and William Goldenberg, Zero Dark Thirty
BEST ORIGINAL SCORE
Dario Marianelli, Anna Karenina
Alexandre Desplat, Argo
Mychael Danna, Life of Pi
John Williams, Lincoln
Thomas Newman, Skyfall
BEST MAKEUP AND HAIRSTYLING
Howard Berger, Peter Montagna and Martin Samuel, Hitchcock
Peter Swords King, Rick Findlater and Tami Lane, The Hobbit: An Unexpected Journey
Lisa Westcott and Julie Dartnell, Les Misérables
BEST PRODUCTION DESIGN
Anna Karenina, Sarah Greenwood (Production Design) nad Katie Spencer (Set Decoration)
The Hobbit: An Unexpected Journey, Dan Hennah (Production Design) and Ra Vincent and Simon Bright (Set Decoration)
Les Misérables, Eve Stewart (Production Design); Anna Lynch-Robinson (Set Decoration)
Life of Pi, David Gropman (Production Design); Anna Pinnock (Set Decoration)
Lincoln, Rick Carter (Production Design); Jim Erickson (Set Decoration)
BEST ANIMATED SHORT FILM
Adam and Dog, Minkyu Lee
Fresh Guacamole, PES
Head over Heels, Timothy Reckart and Fodhla Cronin O'Reilly
Maggie Simpson in "The Longest Daycare", David Silverman
Paperman, John Kahrs
BEST LIVE-ACTION SHORT FILM
Asad, Bryan Buckley and Mino Jarjoura
Buzkashi Boys, Sam French and Ariel Nasr
Curfew, Shawn Christensen
Death of a Shadow (Dood van een Schaduw), Tom Van Avermaet and Ellen De Waele
Henry, Yan England
BEST SOUND EDITING
The two bolded titles aren't a mistake — this was called as a tie, with Oscars going to both films. That was weird. The sixth tie in Oscar history.
Argo, Erik Aadahl and Ethan Van der Ryn
Django Unchained, Wylie Stateman
Life of Pi, Eugene Gearty and Philip Stockton
Skyfall, Per Hallberg and Karen Baker Landers
Zero Dark Thirty, Paul N.J. Ottosson
BEST SOUND MIXING
Argo, John Reitz, Gregg Rudloff and Jose Antonio Garcia
Les Misérables, Andy Nelson, Mark Paterson and Simon Hayes
Life of Pi, Ron Bartlett, D.M. Hemphill and Drew Kunin
Lincoln, Andy Nelson, Gary Rydstrom and Ronald Judkins
Skyfall, Scott Millan, Greg P. Russell and Stuart Wilson
BEST VISUAL EFFECTS
The Hobbit: An Unexpected Journey, Joe Letteri, Eric Saindon, David Clayton and R. Christopher White
Life of Pi, Bill Westenhofer, Guillaume Rocheron, Erik-Jan De Boer and Donald R. Elliott
Marvel's The Avengers, Janek Sirrs, Jeff White, Guy Williams and Dan Sudick
Prometheus, Richard Stammers, Trevor Wood, Charley Henley and Martin Hill
Snow White and the Huntsman, Cedric Nicolas-Troyan, Philip Brennan, Neil Corbould and Michael Dawson
___________________________________________________________________________________________________________________
Posted on Sunday, February 24th, 2013 by Angie Han
Like many of us, director James Mangold has a habit of tweeting and Instagramming throughout his day. But where our pages might consist of cat photos and foodie shots (or, okay, my page), Mangold's is a little more exciting as he gets to show us the making of The Wolverine. His latest photo from the set shows star Hugh Jackman chopping wood, or at least pretending to chop wood, on the film's Japanese set. Check it out after the jump.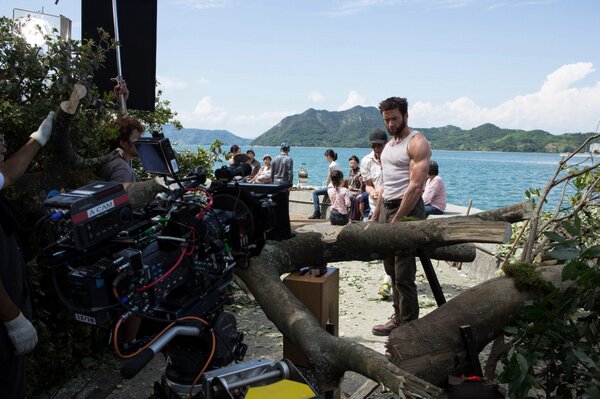 I don't think this update offers much in the way of plot hints, unless that eight-inch caterpillar works its way into the story somehow. But it's cool to get a peek behind the scenes, especially when said scene involves a gorgeous seaside view.
If the first Wolverine trailer is debuting in front of G.I. Joe: Retalitation, as widely believed, we still have some weeks to wait. In the meantime, though, Twitter is proving a great source for Wolverine images. Mangold's shared his photos from the set and the editing bay, and the official @WolverineMovie page has uploaded quite a few stills. Flip through our previous coverage of the movie to check out some of the others.
Also starring Will Yun Lee, Svetlana Khodchenkova, Hiroyuki Sanada, Hal Yamanouchi, Tao Okamoto, Rila Fukushima, and Brian Tee, The Wolverine lands in theaters July 26.
Based on the celebrated comic book arc, this epic action-adventure takes Wolverine, the most iconic character of the X-Men universe, to modern day Japan. Out of his depth in an unknown world he faces his ultimate nemesis in a life-or-death battle that will leave him forever changed. Vulnerable for the first time and pushed to his physical and emotional limits, he confronts not only lethal samurai steel but also his inner struggle against his own immortality, emerging more powerful than we have ever seen him before.
__________________________________________________________________________________________________________________
Posted on Friday, February 22nd, 2013 by Germain Lussier
Director Matt Reeves is going back to his last film to fill a key role in his next one. Let Me In star Kodi Smit-McPhee has just been cast as one of the leads in Dawn of the Planet of the Apes, the sequel to 2011′s Rise of the Planet of the Apes. He joins Andy Serkis and Jason Clarke in the sequel to the prequel of 1967′s Planet of the Apes which takes place 15 years after Caesar (Serkis) began his ape vs. man revolution. 
Deadline broke the news of the casting but offered no additional info on who Smit-McPhee would be playing other than "one of the leads." One educated guess would be the son of Clarke's character, which would give the film a strong human connection to build around in addition to all the performance capture apes. That, of course, is purely speculation. He could be mo-capping an ape for all we know.
Reeves is planning to start filming in March, with a story that'll have two main components. The first is a group of scientists still living in San Francisco and the other the apes who are "on the path to emerge as society's new rulers."
Reeves is getting a great rising star in Smit-McPhee, who was amazing when he and Reeves collaborated previously in Let Me In, and has a slew of impressive projects both awaiting release and in the works. This year, he was most famously the voice of Paranorman.
Written by Mark Bomback, based on an original draft by Rise writers Amanda Silver and Rick Jaffa, Dawn of the Planet of the Apes is schedule for release May 23, 2014.
__________________________________________________________________________________________________________________
Posted on Friday, February 22nd, 2013 by Russ Fischer
Over the past couple weeks we've heard a lot about the casting process for Guardians of the Galaxy at Marvel Studios. The film is the next big thing from the studio, and requires the assembly of a substantial cast to play the team of the title.
Chris Pratt won the lead role, and at the end of last week we heard that Jason Momoa had been offered one of the prime secondary roles. That was followed by some dithering about whether or not he was going to take the salary Marvel is offering. We've heard that sort of thing before, especially with respect to Marvel, which notoriously lowballs salaries for actors. Ultimately, Momoa has reportedly passed on the role.
But since we're talking about this a lot lately, there's some background to this dealmaking that sets Marvel apart from other studios, and it is worth knowing. Every studio tests actors for big roles in new tentpoles, but no movie studio does it in quite the same way Marvel does. The specifics of Marvel's working method mean that the way things get reported are a little different from other outfits, as well. So let's dig in to how the company does business, to get a better understanding of what some of the news reports mean.
The typical setup is that once a movie project is in motion, there's a set of producers (and the director) on one side, and a set of actors and their managers and agents on the other. The dealmaking process isn't always straightforward, but generally speaking actors test or are considered, there's some back and forth on deal points, and eventually someone is signed.
At Marvel, the structure is a bit different. Marvel's system works like TV. In TV dealmaking, many deals are written and signed before actors have tested for a part, and way before they've been offered a part. There might be some bargaining, but the average actor who signs for a TV show knows what they're going to make for each theoretical season and how many seasons they're locked in for at the outset.
Before an actor tests for a Marvel role, a deal is written and signed. That last part is important. If an actor wants to read for a role, or go on tape to test for the producers on a Marvel film, they start the process with a deal that specifies salary, the number of films in which that actor can be optioned to appear, and so on. This happens whether or not a part is offered.
Thus, when a role is offered, there is already a deal. It's a fairly unique setup.
What does this have to do with Guardians of the Galaxy?
A lot of people have tested for the big roles.
Quite a few people went in for Drax, the role for which Momoa was rumored.
They all have deals, but none are, for lack of a better word, active.
At this point, no one has the part.
That's probably going to change, fast, but right now, Marvel has its pick of people.
Why do actors want this, despite the fact that Marvel's process isn't traditional, or particularly accommodating?
It should be obvious, but look at someone like Chris Hemsworth. He didn't earn much to play Thor originally, and he likely didn't get a lot more to be in The Avengers, or Thor 2. But before he was Thor, he was just another Australian import. Now he's Chris Hemsworth. He's a name, and he can get a hefty salary for lead roles outside of Marvel.
The studio's movies have become great stepping stones for actors — especially those in lead roles. Chris Evans was doing excellent work long before he was Captain America, but that movie made people see him differently. The assumption is that Guardians of the Galaxy would have the power to do this for the new cast. Personally, I'm disappointed that Momoa (or his people) seem to have decided that the deal wasn't to his advantage.
___________________________________________________________________________________________________________________
Posted on Friday, February 22nd, 2013 by Germain Lussier
And you thought we were going to get through a week without a juicy Star Wars rumor? Think again. Ain't It Cool News is reporting one of the many (many) ideas currently floating around Lucasfilm (such as the Han Solo, Boba Fett and Yoda movies) is a movie version of Star Wars: Knights of the Old Republic. Yes, the popular role playing video game set 4,000 years before the rise of the Galactic Empire. The primary writer on the series, Drew Karpyshyn, transitioned into screenwriting last year and is reporting his first script is nearly done. Is it Knights of the Old Republic?
According to the Ain't It Cool News rumor, Karpyshyn left Bioware — the main developer of Knights of the Old Republic — last February to pursue screenwriting and since then, hasn't really made much news. (He has, however, written five Star Wars novels proving he has a nice "in" at Lucasfilm.) His personal website says the following:
I don't have any produced or sold screenplays yet. I have one script that's nearly complete, and I will be looking for an agent soon to help me market it to major Hollywood studios.

 
That statement has no date on it so it could have been updated yesterday or six months ago. Besides the rumblings reported to AICN, there's no actual evidence Karpyshyn is writing a Knights of the Old Republic screenplay. It's very possible, probable even, that his screenplay is something different. But we know he has contacts at Lucas film and when the merge happened, who better to call than he to talk Knights of the Old Republic? Or maybe none of this is true at all. Karpyshyn also wrote Mass Effect, which is being developed by Hollywood, and his name never came up there.
The only Star Wars title that's 100% happening is Episode VII. Lawrence Kasdan and Simon Kinberg are also, 100%, working on spin-offs, but what we don't the subjects. It could be Han Solo, Boba Fett or Yoda. It could be this Knights of the Old Republic rumor or something totally different. (Though Kasdan did say he wasn't looking at the Expanded Universe for inspiration and Episode VII wouldn't use that material either.) At this point, almost anything that's whispered with the word "Star Wars" gets people talking.
But, just maybe, Lucasfilm will embrace one of their most successful and popular extended universe franchises and turn it into a movie. And maybe that movie will be written by the man behind the game.
__________________________________________________________________________________________________________________
Posted on Tuesday, February 12th, 2013 by Russ Fischer
Lore is quickly becoming one of the more talked-about indies of the year. Australian director Cate Shortland (Somesault) made the film, and co-wrote the film with Robin Mukherjee, based on part of Rachel Seiffert's novel The Dark Room.
The film follows a young woman and her siblings as they flee to safety across ruined Germany in the wake of Hitler's death. Their parents were fervent Nazis, and as the children cross their country, they face horrific truths about what has been done in the name of the cause their parents believed in.
This trailer for Lore shows off the film's often exquisite cinematography, and will give you a sense of how that journey plays out.
Apple has the trailer in HD. Lore is in some theaters now.
When her SS officer father and mother, a staunch Nazi believer, are captured by the victorious Allies at the end of World War II, the 14-year-old German girl Lore (striking newcomer Saskia Rosendahl) must lead her four siblings on a harrowing journey across a devastated country. When she meets the charismatic and mysterious young refugee Thomas (Kai Malina, The White Ribbon), Lore soon finds her world shattered by feelings of hatred and desire as she must put her trust in the very person she was always taught to hate in order to survive.
__________________________________________________________________________________________________________________
Posted on Wednesday, February 6th, 2013 by Angie Han
Gareth Edwards' Godzilla remake will be sending some of Hollywood's best and brightest to get (potentially) crushed to death by a monster. Elizabeth Olsen and Bryan Cranston are looking to join Aaron Taylor-Johnson in the sci-fi tentpole for Warner Bros. and Legendary. There is one little detail standing in the way right now, however — none of the three deals can be finalized until Frank Darabont finishes his rewrite of the script. Hit the jump to keep reading.
Few plot or character details have been revealed at this point, so we don't know what parts Cranston and Olsen are circling. A rumor went around last month that Taylor-Johnson would be playing a soldier fighting not just Godzilla but two other monsters as well, but none of that info has been confirmed.
Cranston's movie career has really picked up in recent years thanks to Breaking Bad. He appeared in some six films in 2012 — Red Tails, John Carter, Madagascar 3 (well, his voice anyway), Rock of Ages, Total Recall, and Argo — and has the comedy Get a Job due out later this year. With Breaking Bad coming to an end this summer, we can probably expect to see even more of him on the big screen soon.
Olsen broke out in 2011 with Martha Marcy May Marlene, and has since stuck mostly with indies like Liberal Arts and Kill Your Darlings. That's about to change, though, as she has Spike Lee's Oldboy coming out this fall. Variety reports that she's been on the verge of booking a big franchise for some time now, having been tested for Captain America: The Winter Soldier (she lost to Emily VanCamp, you'll recall) and eyed for Paramount's Teenage Mutant Ninja Turtles.
It shouldn't be too long before we find out whether Olsen, Cranston, and Taylor-Johnson's deals pull through. Darabont got his hands on the script about a month ago, and the team is aiming to have everything ready so production can begin in March. Godzilla is scheduled to drop May 16, 2014.
__________________________________________________________________________________________________________________
Posted on Wednesday, February 6th, 2013 by Russ Fischer
While Star Wars continues to dominate much of the conversation about big-ticket sci-fi film, the outcome of the DICE keynote talk between filmmaker J.J. Abrams and game-master Gabe Newell of Valve Software was even more stunning: the two are likely to collaborate to make games and movies. The stated movie interests are adaptations of popular Valve games Portal and Half-Life.
"We're making a Half-Life movie" is not quite what they said, but the door was certainly left open to Bad Robot and Valve collaborating on projects. And reading between the lines and taking a few other tips into account, it seems that one film is all but certain.
After the break, we'll give you the proper quotes from the creative pair, and start to figure out just what they're planning. Are the two hatching a scheme for something bigger than a simple game to film adaptation? I wonder if the very long-awaited conclusion of the Half-Life game series might take on a new sort of life thanks to this deal.
Here's what Newell and Abrams said, as captured by various outlets including Wired and Polygon:
Newell: What we are actually doing here, we are recapitulating a series of conversations going on. We reached the point that we decided to do more than talk.

Abrams: There's an idea we have for a game that we'd like to work with Valve on.

Newell: We're super excited about that and we're going to figure out if we can make a Portal movie or Half-Life movie together.
Both Abrams and Newell are nothing if not careful about what they say in public, and this conversation was explicitly described as a way to bring their private talks public. Prior to the quotes above, which came right at the end of their talk, Abrams and Newell had talked about the narrative possibilities in both games and movies, and the ways in which each media can be used to push an audience towards the end of a story.
Other hints we've been given today point to real action being taken on the development of a film involving Bad Robot and Valve. Given the simplicity of the material, I'd bet on Portal being the object of that effort.
Given the cautious ways both men have with revealing things to the public, there's clearly something happening here. The revelation is a big deal, because Valve has resisted Hollywood's efforts to capitalize on the popularity of its game lineup. In 2010, Newell proclaimed that any adaptation of a Valve property would be done by the studio itself. Those facts, taken with the conversation that highlighted many strengths of games and film, and the ways that each has influenced the other, leads me to wonder if there's something bigger brewing than just a Portal movie.
Newell and Abrams both like to go big — all you need to prove that is to check out headlines charting Abrams' actions this year, and Newell's history with Valve. Abrams isn't just making a Star Wars movie; he's making the Star Wars movie no one ever expected to see. Newell doesn't just make games; he makes games that have set benchmarks in the industry, and created a digital distribution platform (Steam) when traditional games distribution was obviously about to turn south.
Could we see this collaboration result in not merely a film adaptation of Portal, but in some previously unexpected conclusion to the Half-Life story? The game series has been dormant since 2007, when Half-Life 2: Episode 2 was released. (The "episode" naming convention is a bit misleading, but there were three pieces of episodic content planned to follow the 2004 release of Half-Life 2; only two have been released.) There is a story to finish, and a Portal film could lay the foundation for a groundbreaking film/game combo to conclude Half-Life.
Such a multi-media feat would be huge, not just in terms of content, but in terms of the relationship Valve has with its audience. There's a big
Half-Life
fanbase that won't be satisfied with anything other than an epic-length game conclusion. As we saw when Bioware
kowtowed to an angry audience
in the wake of last year's
Mass Effect 3
release, that relationship, and the explicit conditions of it, is something developers take seriously.
But Portal and Half-Life take place in the same "universe," and Aperture Science, the headquarters of which is the location for Portal, plays a part in Half-Life 2: Episode 2. Before this announcement I would have presumed that the two game series would eventually converge in parallel releases. Now I harbor hopes that Bad Robot and Valve are planning a Portal movie as the first step in making that convergence happen on a much larger scale.
__________________________________________________________________________________________________________________
Posted on Sunday, January 27th, 2013 by Russ Fischer
If a movie can be both gentle and scathing, Fruitvale is it. In this simple but stunningly effective film, first-time feature director Ryan Coogler responds to the shooting death of a 22-year old Oakland man at a BART station on New Year's Day 2009. The writer/director recreates the horrific action in a straightforward manner that is largely free of hyperbole and excess emotional manipulation. The climax of the film is one of the most powerful sequences you're likely to see on a movie screen this year.
Michael B. Jordan (The Wire, Friday Night Lights, Chronicle) plays Oscar Grant, a man trying to push away his troubled past to concentrate on building a respectable life with his girlfriend and daughter.
Here's the matter of public record that opens the film, and which acts as background to the concept: An altercation on a train after midnight put Grant and some of his friends in police custody in the BART station, and things got ugly very fast. A pushy officer punched and beat Grant. Soon after, while Grant was prone on his stomach, the officer drew his pistol and shot the young man in the back. Grant's detention by police and the shooting that followed was captured on video by several bystanders wielding cell phone cameras.
Coogler opens the film with that video, so audiences know exactly how the story ends. But then he winds back to twenty-four hours before the shooting, and we shadow Grant for the final day of his life. That might seem like a stock approach to manufacturing sympathy for the victim of a crime, but Coogler's script, sourced from interviews and depositions, is sensitive without being maudlin. It does present Grant's ambitions and his best qualities as a son and father. But the day opens with the revelation that he's cheated on his girlfriend. Later we learn that he has lied to her about another important subject. He's no saint, and the film never veers into hagiography.
As Grant, Jordan performs with an easy, assured momentum, painting a man susceptible to mercurial, even furious mood swings. He'll flip from familial to ferocious on a dime. In a flashback illustrating his 2007 incarceration in San Quentin, Jordan is having a good little moment with his mom, but he explodes in barely-controlled fury when another prisoner makes a rude comment in passing. The script feels honest as it depicts many sides of Grant's personality, and Jordan's performance ultimately leads us to focus on his ambitions and best qualities, rather than his failings.
If there's a misstep in the film, it is casting a recognizable actor as the officer who shoots Grant. Since the film opens with the cell phone video of the real shooting, Coogler doesn't need to play coy about where the film is going, but the moment Kevin Durand steps on to the BART train in a police uniform, the tone of the film shifts just slightly to overtly menacing. Durand is too recognizable as a heavy to play into the film's otherwise well-manufactured verisimilitude.
Coogler does quickly reestablish the film's raw simplicity, and the power of the brutal shooting and its aftermath resounds. This movie gives a life and personality to a young man who might easily be dismissed as an assumed criminal or awful statistic. On a level that has nothing to do with activism, Fruitvale is a good film wrapped around excellent work from Jordan. As an actor he's is hardly unknown, but this is exactly the sort of breakthrough appearance we hope to find at Sundance. I can't imagine an audience emerging from this film unmoved by his performance.
__________________________________________________________________________________________________________________
Posted on Monday, January 28th, 2013 by Angie Han
Perhaps the biggest entertainment news to come out of last week was the announcement of J.J. Abrams as the director of Star Wars Episode VII, after months of rumor and speculation. But as excited as fans were to hear the news, it raised a few questions as well.
First and foremost is what this means for the future of Star Trek. His involvement in Star Wars would seem to complicate his involvement in future Star Trek installments, if not preempt it altogether. Then there's the matter of his busy schedule. Abrams had enough on his plate even before the Episode II hiring was announced, so that targeted 2015 release date could prove difficult to hit. As of now, it looks like the answers are that Abrams will produce the next Star Trek — and that there's no promise Episode VII will hit in 2015 after all. Hit the jump to keep reading.
The LAT spoke with Rob Moore, Vice Chairman of Paramount Pictures. According to him, Abrams' Star Wars job doesn't change his commitment to the next installments of the Star Trek and Mission: Impossible franchises. "J.J. will continue to develop projects for us including a new Mission: Impossible, and he is committed to produce another Star Trek," he said.
Although Moore wouldn't rule out the possibility of Abrams directing the next Star Trek, realistically, it seems much more likely he'll hand the reins to someone else. The LAT speculates that one of Abrams' frequent associates could get the job, such as Damon Lindelof, Roberto Orci, Alex Kurtzman, or Matt Reeves. It'll likely be some time before we find out for certain, though, as Star Trek Into Darkness isn't even hitting theaters until May 17.
As for when he'll have time to help out with Star Trek and Mission: Impossible while also delivering a new Star Wars movie, THR reports that Abrams hasn't actually committed to the previously announced 2015 date yet. That means the release could still be pushed back if necessary, and considering Abrams' schedule it very well may be. In addition to his two Paramount franchises, Abrams is also involved with several TV pilots in consideration for the 2013 fall season.
__________________________________________________________________________________________________________________
Posted on Thursday, January 3rd, 2013 by Angie Han
Here's yet another addition to the growing list of possibilities for Peter Quill / Star-Lord in James Gunn's Guardians of the Galaxy. A source is reporting that John Krasinski is being considered for the role, though with so many stars associated with the role at this point, it's tough to say how likely Krasinski really is to land the part.
More intriguingly, casting is now also underway for the role of Drax the Destroyer. The first three names to crop up as contenders for that part are Old Spice pitchman Isaiah Mustafa, WWE superstar Dave Bautista, and Generation Kill actor Brian Patrick Wade. Read more after the jump.
Comic Book Movie got the scoop from an unnamed source "very close to production." In the comics, Drax the Destroyer started out as an ordinary human called Arthur Douglas. After he and his family were slaughtered by the villainous Thanos, the super-being Kronos transferred Arthur's soul into a powerful new body so that he could challenge Thanos. However, it's expected that Douglas' story will be altered somewhat for Gunn's film.
The three actors up for Drax have varied levels and types of experience, but it's obvious that Gunn and Marvel Studios are seeking a large, buff type. Since breaking out in the 2010 Old Spice campaign, Mustafa's booked a handful of TV guest spots (Chuck, etc.) and movie roles (Horrible Bosses, Madea's Big Happy Family). Bautista has recently transitioned from pro wrestling into film with parts in House of the Rising Sun, The Man With the Iron Fists, and the upcoming Riddick. Wade has worked primarily in television, playing Captain Craig Schwetje in HBO's Generation Kill. His big-screen projects include The Guardian and Latter Days.
Meanwhile, Krasinski's just the latest in a very long string of actors said to be competing for the Peter Quill part. Joseph Gordon-Levitt and Michael Rosenbaum have also emerged as potentials in recent days, with Zachary Levi and Jim Sturgess named as frontrunners before that. It's unclear whether Krasinski's actually gotten as far as testing, as Comic Book Movie's spy only says Marvel is "looking at" him. This isn't the Office star's first brush with the Marvel Cinematic Universe. Back in 2010, he was considered the favorite to play Captain America before Chris Evans walked away with the part.
__________________________________________________________________________________________________________________
Posted on Sunday, December 30th, 2012 by Russ Fischer
Director Niels Arden Oplev and actress Noomi Rapace found great success across the globe with the trilogy of films based on Steig Larsson's Millennium novels, beginning with The Girl With the Dragon Tattoo. The duo has reunited for Dead Man Down, a revenge tale in which Rapace plays a woman who coerces hit man Victor (Colin Farrell) into helping her execute a revenge plot.
The first trailer for the film is now online; check it out below.
Before you hit "play," note that the audio sync on this version is a bit off; when we can upgrade with a better update we will. There's also the question of just how much this trailer gives away, but in the mode of many modern thriller trailers, I'd expect that this shows less than it seems.
Dead Man Down opens on March 8.
Following the cinematic phenomenon The Girl With the Dragon Tattoo, acclaimed filmmaker Niels Arden Oplev and brooding beauty Noomi Rapace reunite for another thrilling tale of vengeance. Colin Farrell joins the prestigious team as brave enforcer Victor, right hand man to an underground crime lord in New York. He seeks to avenge the death of his wife and daughter caused by his boss. When his employer is threatened by a mysterious killer, Victor also becomes detective. Victor is seduced and blackmailed by Beatrice (Noomi Rapace), a victim turned avenger whose intense chemistry leads them spiraling into payback delivered in violent catharsis. FilmDistrict will release Dead Man Down in limited theaters on March 8th this winter.
__________________________________________________________________________________________________________________
Posted on Thursday, December 6th, 2012 by Germain Lussier
There's a moment about 30 minutes into Tom Hooper's musical adaptation of Les Miserables where you're either with it or not. Anne Hathaway, beaten and bruised, hair raggedly cropped short, sings the iconic song "I Dreamed a Dream." She does so on her own, in a single long-take close-up that lasts at least three minutes. It's Hooper's way of telling the audience this film is going to be dark, it's going to be dirty, it's going to have emotions, and yes, it's going to be these actors (who we know better as Wolverines, Catwomen, Gladiators or Mean Girls) singing — and only singing — their hearts out for almost three hours.
In this moment, Hathaway provides one of the most stirring and impressive emotional moments of 2012, perfect capturing the tone and wonder of Les Miserables. It's mesmerizing, moving and magical.
At its most basic, Les Miserables is the story of Jean Valjean (Hugh Jackman), a man imprisoned for stealing a loaf of bread. After serving a twenty year sentence, he's released, skips parole and makes a new life for himself. But he's constantly looking over his shoulder, mostly for Inspector Javert (Russell Crowe) a lawman tenaciously hunting him. Along the way he meets a troubled woman named Fantine (Anne Hathaway) and helps her by raising her daughter Cosette (Isabelle Allen as a child, Amanda Seyfried as a grown up). Eventually, love both complicates and illuminates those characters as the story dovetails with the French Revolution.
There's a reason this story, originally written by Victor Hugo in 1862, has endured for more than a century. Every few decades it's reinvented, most famously and successfully in 1980 as stage musical which became an all-time worldwide classic. The music and lyrics by Claude-Michel Schönberg, Jean-Marc Natel and Alain Boublil are some of the most recognizable and beautiful in all of musical theater. Without the lyrics, the story can be a bit dry. Hooper's version not only embraces those lyrics, it lives off them. It vibrates from their power from the first frame to last, giving the film an almost kinetic energy.
That music, the only way the characters communicate throughout, pushes the narrative forward. Act one and two are straight Valjean but act three jumps ahead and the link there never feels quite right. It works, but it's a bit of a stretch simply because after becoming comfortable with one set of characters, you have to meet and connect to whole other set. This change is a good example of the film's biggest flaw – it's almost too big. Everything happens incredibly quickly, save for some of the songs where Hooper and company grind out the emotion, and if you can't keep up, the film may lose you.
Hooper's directorial choices won't help that either. Individually, everything he does works incredibly well, maybe too much so. The close-ups force you to feel the character's emotions, the wide angle shots give the film a stage play look, the steadycam and computer moves give scope to 19th Century Paris. On their own, these choices come off incredibly brash and exciting. However, being as each look is so different, it stops the film from having a consistent visual style. Everything feels realistic and individually powerful, but the jumping around can be a tad disconcerting.
Those are the only things holding the film back from being a legitimate musical masterpiece. Throughout, the film is bold, brash yet intimate and emotional thanks in large part to the actors giving brave, heartbreaking performances. No one else in Hollywood could have played Valjean like Jackman does. He's simultaneously sympathetic, masculine, intimidating and kind. Plus, he can sing incredibly well. Russell Crowe's more stoic performance and voice make for a frightening, but welcome foil to Valjean.
As for the supporting cast, Sacha Baron Cohen and Helena Bonham Carter are hilarious, Eddie Redmayne and Aaron Tveit inspire with their confidence and Samantha Barks is beautiful and nuanced. Up and down the roster, each character is well-defined and somehow relatable. They are the beating heart of Les Miserables, giving it street-level believability.
But it's Hathaway, in a small but important role, who steals the show right from the start and helps propel the movie to the heights it eventually reaches. Les Miserables is a large-scale, grimy musical that's both a testament to the talents of the filmmakers but also the strength of the material. It's a musical worthy of Hollywood history and one of the year's best films.
___________________________________________________________________________________________________________________
Posted on Saturday, December 22nd, 2012 by Angie Han
Most of the films from Marvel's Phase Two slate feature leads carried over from Phase One. Chris Hemsworth has already played Thor twice, as has Chris Evans with Captain America, and Iron Man 3 will actually be Robert Downey Jr.'s fourth turn as the character. But that's not the case for James Gunn's Guardians of the Galaxy, which is currently in the process of assembling an all-new cast.
Last month, the shortlist to play Peter Quill revealed to five contenders: Joel Edgerton, Jack Huston, Jim Sturgess, Lee Pace, and Eddie Redmayne. Now Marvel Studios has narrowed the options down to two. Sturgess is the only one of the original group that remains in contention, while Zachary Levi has emerged as a surprise finalist. More details after the jump.
Also known as Star-Lord, Quill is a half-alien, half-human NASA astronaut who becomes the leader of the titular team of intergalactic protectors. Other members of the team include Drax the Destroyer, Rocket Raccoon, and Gamora. None of the roles have finalized casting at this point.
Although Levi's name wasn't featured on last month's list of potentials, Variety reports that Marvel Studios has long had Levi on their radar. The actor was initially in talks to play Fandral in 2011′s Thor before his commitment to Chuck forced him to drop out, and he was replaced by Joshua Dallas.
What's a little weird is that Marvel Studios has already succeeded in casting Levi in one of their other projects. Ironically enough, scheduling conflicts proved an issue for Dallas in Thor: The Dark World, and Levi was cast to take over the role. That means if Levi gets the Guardians gig, he'll be playing two distinct and unrelated roles within the same universe. But that's a fairly big if at this point. While Levi and Sturgess are the current favorites, the studio may also test another, unnamed third actor in the coming weeks.
Levi is mainly known for his TV work, though he's broken through into features from time to time. His highest-profile movie project to date is Tangled, in which he voiced dashing rogue Flynn Rider. Needless to say, Star-Lord would prove a bit step up for his film career. Sturgess, on the other hand, has plenty of big-screen experience. He's led several films including 21, Across the Universe, One Day, and The Way Back, and was seen this fall in the Wachowskis' and Tom Tykwer's Cloud Atlas.
Guardians of the Galaxy will open August 1, 2014.
__________________________________________________________________________________________________________________
Posted on Tuesday, December 4th, 2012 by Russ Fischer
Matt Damon and George Clooney have a great history together on screen thanks to Syriana and the Oceans films, and now they're set to make history together. Or re-make history, as it were. Damon is in talks to join the cast of Clooney's Monuments Men, the film that will chronicle "a crew of art historians and museum curators who unite to recover renown works of art that were stolen by Nazis before they are destroyed."
Clooney wrote with producing partner Grant Heslov, and will star. The rest of the cast is pretty phenomenal, too, with Daniel Craig, Bill Murray, Cate Blanchett, Jean Dujardin (The Artist), John Goodman, Hugh Bonneville, and Bob Balaban set to appear. Almost could be a WWII-era Oceans film; just add Brad Pitt. Deadline also says that the film will basically import all of Ben Affleck's crew from Argo, which Clooney and Heslov also produced. It all sounds top-notch, frankly.
After the break, Damon talks about the effect The Bourne Legacy might have on his return to the Bourne series.
Prior to the release of The Bourne Legacy there was some talk that one eventual goal on the producer side was to bring that sequel's new characters into the same film with Matt Damon's franchise namesake Jason Bourne. The Bourne Legacy added a whole new angle of chemical-based augmentation that turned government agents into super-operatives. And it sounds like Damon isn't all that interested in following through with a story that would have to integrate such a plot device.
Asked by The Playlist about the film, Damon said,
I think it's going to make it harder for us to make another one. I'm just trying to figure out like… Because they used our characters, anything that happens in that world, that's the 'Bourne' world now. So the pill popping and all that stuff happens.
Asked about doing a film that involved he and Jeremy Renner's Legacy character, Damon said,
I don't know what that story would be. I love Jeremy and I'm a huge fan of him and I know him personally and love him outside of work, too. But I just don't know what that story would be. I could never see Bourne teaming up with anyone. And all he said was – he wanted out, he wanted out, he wanted out. So how do you get that character going again?
It's easy to take something like this out of context, or to blow it out of proportion. Frankly, it isn't necessarily Damon's job to figure out what the story would be, and if someone else was able to knock together something compelling, there's always the chance that he (and director Paul Greengrass) might walk back into the franchise.
But this uncertainty about a story has been a problem for the Greengrass team before. Damon explains that part of the reason he and Greengrass didn't do a fourth film was lack of story. "Literally, we couldn't figure out how to do it three years ago," he said before explaining that an expiring rights deal made the creation of a new film a pressing matter, and so The Bourne Legacy happened in part because the Greengrass team didn't feel there was anywhere to go.
__________________________________________________________________________________________________________________
Posted on Tuesday, December 4th, 2012 by Germain Lussier
After only seven movies, Christopher Nolan has elevated himself to Hollywood royality. Actually, he probably did it after five movies, but there's no doubt he's on a short list of the best in the business. That makes not only his opinions important, but his projects doubly so. He's currently promoting the home release of his latest movie, The Dark Knight Rises, but the filmmaker's got another major movie he produced - Man of Steel - coming out in a few months as well. The success of that film will make or break whether or not Warner Bros. decides to go ahead with a Justice League movie. These are, obviously, all topics we're curious to know Nolan's thoughts on.
After the jump, read some quotes from the filmmaker on each of those topics as well as his polarizing ending to The Dark Knight Rises.
The below quotes come from an interview with The Playlist.
On the topic of Man of Steel, Nolan doesn't want people to think it's just The Dark Knight with Superman.
I wouldn't want people to think we're doing for Superman what we did for Batman. It's very much Zack's film and I think people are going to love what he's done. I think it's really remarkable to take on that character. Superman is a completely different character than Batman. So you can't in anyway use the same template. But David Goyer had this, I thought, brilliant way to make Superman relatable and relevant for his audience. Zack has built on that and I think it's incredible what he's putting together. He's got a lot of finishing to do on that. Superman is the biggest comic book character of them all and he needs the biggest possible movie version which is what Zack's doing. It's really something.
I love Nolan's quote saying Man of Steel is "the biggest possible movie version" of the character. That's a bold statement, both when you look at Superman's cinematic history and Nolan's. He's made one or two big movies himself.
Of course, one of those is The Dark Knight Rises and The Playlist asked him if he saw the film's ending as "radical:"
Radical? Hmm, yes, perhaps for the comic book fans it was. But I think it was appropriate ending for the story we set out to tell.
Finally, Nolan was asked if he'd be interested in pulling a Joss Whedon and overseeing what Warner Bros. and DC have going ahead, specifically with Justice League:
Well, as I've said, and I'll say definitively again, I am done with the Batman films, the trilogy is completed. It ended in the manner we had envisioned.
But would he ever do another superhero movie?
Well, I'm producing Superman now and I'm enjoying time off and taking a break. (said with a smile, says the article.)
A big thanks to The Playlist for getting such good answers out of the generally tightlipped Nolan. Do you think he'd ever enter the genre again?
__________________________________________________________________________________________________________________
Posted on Tuesday, December 4th, 2012 by Russ Fischer
It's difficult to really get across the idea that Guillermo del Toro's Pacific Rim might truly be a movie we'll want to see more of after it opens in July next year. The idea of del Toro doing his take on giant robots fighting giant monsters will be enough, for some people, especially when one of the robots is piloted by Idris Elba. But until people see footage in the first trailer (coming soon, with The Hobbit) it might be a little premature to talk sequel.
But here we are anyway. Legendary Pictures likes the film, evidently, as it is not only getting behind Guillermo's next film (the big haunted house movie Crimson Peak), but also hiring Pacific Rim's original writer, Travis Beacham, to script a sequel with del Toro.
THR originally reported that Beacham will write under the supervision of del Toro, and that a decision on the director for the sequel has yet to be made. An update clarifies that del Toro is going to co-write:
__________________________________________________________________________________________________________________
Posted on Friday, November 30th, 2012 by Angie Han
For whatever reason, Hollywood's had a hell of a time trying to bring Wonder Woman to life. Over the past decade or so, we've seen her DC colleagues Superman, Batman, Green Lantern, and Green Arrow get live-action movie franchises and/or TV series built around them. Meanwhile, Joss Whedon, Joel Silver, and David E. Kelley have each taken a crack at the iconic superheroine, to little avail.
But a property as iconic and popular as Wonder Woman isn't going to be left alone for long, and earlier this fall Warner Bros. TV set up a new project at The CW called Amazon. Allan Heinberg (Marvel Comics' Young Avengers) was tapped to write the drama, envisioned as a teen origin story a la Smallville. Now the potential TV series is taking another step forward as casting gets underway for the lead role. More details after the jump.
Deadline got their hands on the casting call. No specific names have popped up just yet, but producers are seeking a lead actress in her early to mid-20s who's 5'8″ or taller. (It's too bad Adrianne Palicki's already had her shot with the canned pilot from David E. Kelley, because she fits that description perfectly.) Though the Amazon character appears to be named Iris, Heinberg tweeted "so much for using code names to avoid internet speculation," implying that she's still called Diana Prince.
She comes from a remote, secluded country and until now has spent most of her life as a soldier and a leader on the battlefield. Because of relentless brutality of her life at home, Iris looks at our world with absolute awe and astonishment. She's delighted ­and just as often horrified ­ by the aspects of everyday life that we take for granted: skyscrapers, traffic, ice cream. It's all new and fascinating and sometimes slightly troubling ­to her. Iris is completely unschooled in our world, our culture, our customs. And she's completely inexperienced at interpersonal relationships. She has no social filter, does not suffer fools, and tends to do and say exactly what's on her mind at all times. She's bluntly, refreshingly honest. She can tell when you're lying to her. And she doesn't have time or patience for politics or tact because she's too busy trying to experience everything our world has to offer. There are too many sights to see ­and things to learn ­and people to care for. Hers is a true, noble, and generous heart. And she will fight and die for the people she loves. Iris is a fierce warrior with the innocent heart of a romantic and she will fight to the death to make the world safe for innocents and true romantics everywhere.
Casting on this particular pilot is beginning a little earlier than is the norm. Heinberg is still working on the script, and the project hasn't officially been greenlit yet. But with the entire burden of the story resting on Iris' shoulders, it makes sense that the producers would want to find the right star ASAP.
If this incarnation of Wonder Woman has an advantage over previous failed ones, it may be that The CW seems like a natural fit for the character. The network's had great luck with superhero sagas before, with Smallville (which ended in 2011) and Arrow (which premiered this fall). Moreover, while Amazon will likely try and appeal to both genders, its female-centric premise should be very comfortable on the female-skewing network.
Whatever happens with Amazon, it's looking increasingly likely that the warrior princess will score some time on the big screen within the next few years. Green Lantern scribe Michael Goldenberg was hired this summer to try his hand at a Wonder Woman feature, and there's a good chance she'll make an appearance in Justice League in 2015.
__________________________________________________________________________________________________________________
Posted on Tuesday, September 25th, 2012 by Russ Fischer
With a shock of blond hair, braces, and a physique that has yet to even begin thinking about filling out, PK is an unlikely general. He's a relatively tiny kid, maybe eleven or twelve years old, and the undisputed champion of War amongst kids at school. In I Declare War, PK (Gage Munroe) plays by the rules in games of capture the flag: two teams, two immovable bases, gunshots incapacitate for ten seconds, grenades "kill." A fan of the movie Patton and a student of war history, PK believes in the rules of the game, and the rules of engagement, and winning.
His game of War is the same game many of us played as children, with sticks standing in for guns, and a give and take between honor and rule-bending dictating the outcome of a fight. But in this film, the combat is rendered as real, with splashes of blood, and hands full of real pistols and automatic rifles. When the bouncy, imaginative Frost (Alex Cardillo) finds a particularly choice tree branch, we see it in its natural state for a few shots, but the next time it appears the branch has transformed into what Frost sees: an olive drab bazooka.
The "game as realism" approach of I Declare War is the hook, but the reason to stick around is the way that writer/co-director Jason Lapeyre, who directed with Robert Wilson, weaves enduring ideas about friendship, betrayal and adolescence into the film. Their movie won the audience award last night at Fantastic Fest, and it's easy to see why. The scenario transitions seamlessly from playground fluff to effective exploration of the causalities incurred as one kid follows his drive to secure victory at any cost.
The entirety of I Declare Wartakes place on the battlefield as PK faces off against the chess-playing enemy general Quinn (Aidan Guiveia). But Quinn is quickly overturned by Skinner, an uppity soldier in his employ. The round-faced Skinner (Michael Friend) is like Charlie Brown grown into an '80s action villain; in a couple decades he could menace Schwarzenegger, or at least Chuck Norris. Skinner PK's best friend Kwon as hostage, and hopes to use the kid to draw the opposing leader into a face to face fight. But PK isn't so easily drawn out, and Skinner's rage leads to violence against his hostage that is more appropriate to Lord of the Flies than a Saturday afternoon game.
The terms of the game may be childish, but the intent behind it is decidedly adult. And while it seems like kids stuff at first, it isn't long before mature difficulties begin to influence the flow of battle. Jess (Mackenzie Munro), as the lone female combatant, brings budding sexual tension to the game. She's playing because she fancies deposed opposition general Quinn, but as she continues to fight in his absence she realizes that she can use other boys' interest in her to her advantage.
As the game becomes more serious, tensions arise between almost all the combatants, and Skinner goes further off the rails. Hostage Kwon (Siam Yu) gets a workout as he faces Skinner's angry impulses, but there are strangely familiar encounters between many of the kids. One of PK's footsoldiers, Joker (Spencer Howers), taunts quiet newcomer Altar Boy (Andy Reid) for getting into the game because he doesn't have friends. Joker will be Alatar Boy's best friend, he says, if only the shy kid partakes in a little corprophagia with a dog turd.
As that implies, there is never a stratification of the two teams into "good guys" and bad. Each of these kids has their own problems, some explicit, and some effectively implied. It's easy to root against Skinner, as he's so obviously unhinged, but the conclusion of the film might even have you reconsidering that estimation. I Declare Warhas a very specific moral stance, but it lets the audience get the idea based on the effect of each kid's actions. Even as the concepts get heavier, Lapeyre and Wilson maintain a fleet-footed approach to putting it all on screen, and like the game it depicts, I Declare War is both cute and deadly serious, with the competing tones complementing rather than undermining each other.
5 Responses to "BEHIND THE LENS"